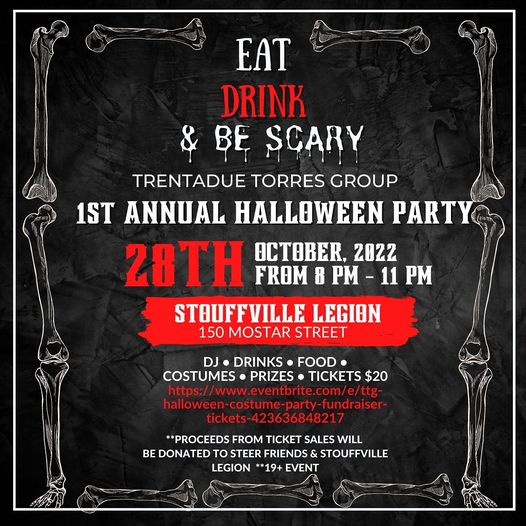 TTG Halloween Costume Party Fundraiser
🎃 TTG Halloween Costume Party Fundraiser
➡️Date: Friday October 28, 2022
➡️Time: 8 pm – 11 pm
➡️Location: Royal Canadian Legion Branch 459 @ 150 Mostar Street, Stouffville
🙏Please join us for our 1st Halloween Fundraiser supporting Steer Friends and the Stouffville Legion. @stouffvillelegion @steerfriends
This is a 19+ event.
There will be…
🌟DJ
🌟DRINKS
🌟FOOD
🌟COSTUMES
🌟PRIZES
You can get your tickets here: ($20):
https://www.eventbrite.com/e/ttg-halloween-costume-party-fundraiser-tickets-423636848217
**PROCEEDS FROM TICKET SALES WILL
BE DONATED TO STEER FRIENDS & STOUFFVILLE LEGION *
See you all there!
Please check out our current events on www.JoinTTGEvents.com