Trentadue Torres Group Halloween Edition
We hope this Ghoulish update finds you well,
It's Time For a Spooky Fun Contest
What a better way to get into the Halloween Spirit then with a contest. We are holding our 7th Annual Pumpkin Carving Contest! Entries must be submitted by October 31st, you will have a chance to win Seasonal Porch Decor. Winner will be announced on November 1st. We can't wait to see all your wonderful creations! *Don't forget to tag us #TTGPumpkin or submit your entry by email to 
[email protected]
*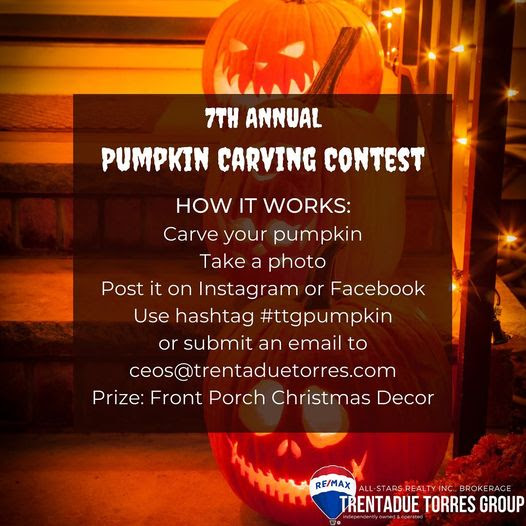 TTG Together with Diversity Kids & Hummingbird Hub Presents
We are looking forward to seeing you all dressed up! Our team will be anxiously awaiting your car load full of creative costumes!
Although Halloween will look much different this year that doesn't mean the little ones have to miss out on all the fun and goodies. Health and safety is always our priority at our events and we will be taking every precautionary measure to ensure this event is done with safety and fun in mind!
Don't wait! Tickets are limited quantities so click on
 DiversityKidsEvents
 to order your tickets.
We are thankful and excited to be included as one of the stops in this amazing event!!!
We Have Something To Crow About
Downtown Stouffville has something special to crow about this year. Come participate in our Scarecrow Contest. Walk along the Main Street businesses between October 24th to October 31st and vote for you favourite Scarecrow by clicking the link provided 
Vote Here for Scarecrow Contest! 
Have you checked out our very own Mrs. D yet?
She is perched out front of the Hummingbird Hub- if she is your favourite you can vote for her by choosing RE/MAX on the voting list.
Just For Laughs
We are looking forward to having a safe, fun and BOOTASTIC Halloween this weekend. We hope you enjoyed this special update, the TTG team want to wish you all a safe and Happy Halloween.